Despite the prospect of winter around the corner, September is a great time to reap the rewards of your vegetable plot. Don't let the harsh winter weather steal all the colour from your garden. We have a brilliant range of winter flowering bedding plants
on offer! Keep spring in mind by planting spring-flowering bulbs and enjoy the garden before summer is really gone for another year.
Sowing and planting
If the weather has really cooled down you can now plant and move shrubs and trees without having to worry about their survival and establishment – they'll have all winter to settle into their new homes and will get off to a flying start next spring.
September is a good time of year to plant new perennials when the soil is warm, but moisture levels are increasing.   Once your summer bedding plants are past their best, make the most of your pots and re-plant them with winter/spring flowering bedding plants.
Buy spring flowering bulbs for next year but make sure the bulbs are firm and a good size with no signs of rotting or damage.  Plant them as soon as you can to help them develop good roots and, to improve drainage add some coarse grit to the soil before planting. Choose a sunny site and plant bulbs at two to three times their own depth pointing upwards.
Divide clumps of herbs such as chives, marjoram, and mint and replant to help rejuvenate the plants.
Vegetables
Pick Blackberries and Raspberries when the fruit is ripe and juicy.  Cut Raspberry canes down to the ground once they have fruited.
Harvest all Potatoes by the end of September to ensure the slugs don't eat them before you do.  Lift them carefully with a fork and store undamaged Potatoes in a dark, cold, frost-free place.  If frost is forecast then harvest tender vegetables such as Peppers, Courgettes and Tomatoes.
Leave Carrots in the ground until you need them – unless they are being attached by carrot fly. Lift Onions when the leaves turn brown, and dry them in the sun.
Bring Chilli plants indoors when they have finished fruiting. Put them on a sunny windowsill for the winter and then back outside for next summer.
September Garden Maintenance – cut back, prune and divide
This time of year, as the leaves start to fall, make sure you clear them and put them on the compost heap. Rotting leaves can cause disease in the garden. This month continue to deadhead plants to prolong their display and when they are past their best you can add them to the compost heap.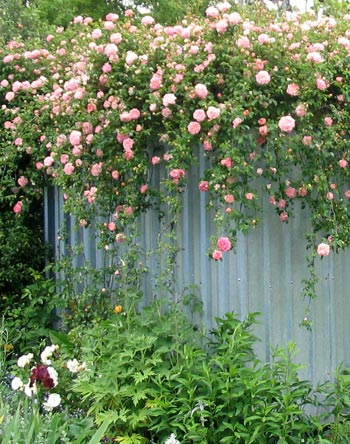 If your perennials are looking tired then remove dead leaves.  If they are getting too big, lift and divide and prise them apart using two forks.  Re-plant any pieces that have good roots and leaves and make sure you water them well.
Prune late-summer flowering shrubs and give evergreen hedges a final trim to make sure they are in shape for winter.
Your climbing roses can be pruned once they have finished flowering: side shoots from the main branches can be cut back to a couple of buds.  Any dead, diseased or spindly growth should be cut out and new shoots tied in to supports from the base.  If there are old thick and woody unproductive stems they can be removed from the base to stimulate more vigorous growth.
Look out for black spot on Roses – pick off and burn any affected leaves to stop the disease spreading.   Don't put them onto your compost heap. Protect soft fruit like raspberries and strawberries from the birds with netting.
Take cuttings of rosemary, bay, sage and lavender and use the cuttings to replace plants once they are past their best in your garden.Continue to collect seeds from perennials. Bring inside tender perennials such as Fuchsia, Gazania, before frosts cause damage.
Wait for the first frosts to hit Dahlias and Cannas before lifting the tubers and rhizomes.  In warmer regions you can leave the tubers in the ground, but do cover them with a protective layer of straw.